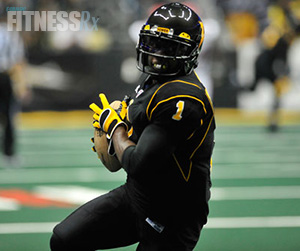 Not many people will call their legs their favorite body part or the one that they enjoy training the most. As a matter of fact, the opposite is usually true for both, with the exception of a few such as Tom Platz or Branch Warren.
But you can add Mike Washington, wide receiver for the Pittsburgh Power of the Arena Football League, to that short list.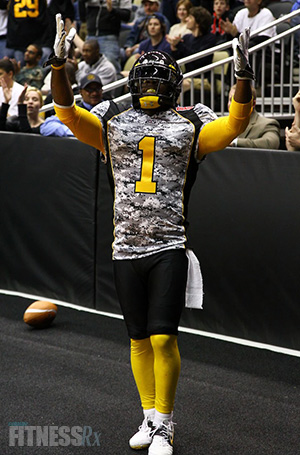 "My favorite body part is my legs and during my training, I have found that there are two types of people: those who love training legs and those who hate training them," explains Washington. "Regardless of which one you may be, by this point, I'm sure that (sic) they are aware of the benefits of training legs."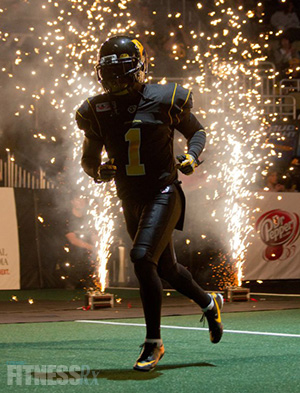 The third-year wideout out of the University of Hawaii takes it a step further with, "My legs are my foundation with every movement that takes place on the field. Essentially, it's the foundation of every sport, as well."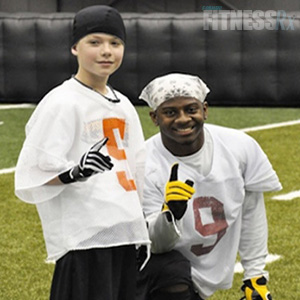 That's hard to argue with, and Washington uses the following leg routine as the key to newfound size, strength and balance, as well as a tight core.
*Rear Elevated Single-Leg Squats – 4 sets, 12 reps each
*Quarter Squats – 4 sets, 12 reps each
*Pendulum Dumbbell RDL – 4 sets, 12 reps each
*Resistance X-Band Walks
*Resistance Abductor Pulls – 4 sets, 12 reps each
*Glutes-Hamstring Raises (with box) – 4 sets, 12 reps each
*Leg Extension – 4 sets, 12 reps each
Standing at 5'8" and 175 pounds, Washington, 26, needs a good ground-based power structure to avoid tackles and gain those all-important Yards After Catch. "I personally take leg training seriously because it's my primary muscle that assist in my main attributes, which are my speed and quickness due to my lack of height."
Judging by his stats, that has certainly been the case. As a rookie in 2011, he had 114 receptions for 1,367 yards (12.0 average) and 30 touchdowns. The following year, he bested that with 115/1,484 (12.9)/34. In the current AFL campaign, Washington is at it again with 66 catches for 675 yards (10.2) and 11 scores through the first 12 games. But don't tell him that.
"I'm not a big stats guy," Washington says humbly. "My high (numbers) come from being consistent and (having) discipline on the field as well as off. A big part of that is having a balance EQ."
And it all starts at the bottom – meaning your legs, of course.
Be sure to follow Mike Washington on Twitter, which he uses as a motivational medium for life lessons and marketing through the Pittsburgh Power. On Instagram, he posts all of his nutritional information and photos for living and eating a healthy lifestyle.