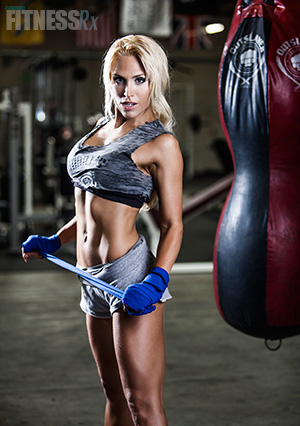 1 – Is the gym a place for a guy to try and meet a girl or is it 'sacred ground' for you and where you want to be left alone to concentrate on your workout?
For me, this is a definitely a 'no-no.' I'm there to do my own thing and not to chat. I think that it's pretty obvious if a girl wants to flirt. If she's at the gym wearing make-up and just strolling around, maybe you have a chance. If she's in big headphones, squatting heavy with eyes telling you she's on a mission, don't approach under any circumstances. LOL
2 – What's the worst line a guy ever said to you?
I could mention a bunch like, "all those curves and I don't have any breaks," but they are not really the worst. At least those guys make an effort. The worst are the random Facebook messages containing, "hey, sexy babe." I mean…really?
3 – What's hotter to you – clean-shaven, five o'clock shadow or grown in facial hair?
This is one that I'm deeply passionate about. I have a MAJOR thing for men in beards. Think caveman…well, maybe a bit more trimmed. Sons of Anarchy, Vikings…YUM! I like real men, not into the 2013 boyish Twilight/Bieber look. But some people can't pull off a beard.
4 – Choose your favorite body type and why: bodybuilder or men's physique competitor?
Men's physique in a heartbeat! I think that most women will agree with me on this one.
5 – Do you find tattoos sexy and do you have any? (Of course we want to know where, too!)
In some cases, I find it incredibly sexy when a guy has some badass tattoos, but they have to be strategic and look good. Random ones that don't fit together just look messy. If you're a suit and tie type of guy, I like the clean look overall. Businessmen are hot in their own right.
I personally don't have any tattoos and I'll most likely never get any. For me, my body is my work of art and I want to keep it as clean as possible.
6 – Men have no problem that they think about sex practically every minute of the day. How often would you say that women do?
I think that many women are just like men, but they can't admit it. At the same time, I think men sometimes feel pressured to live up to the stereotypical alpha male that is ready to go at any given moment. It's really individual and circumstantial for anyone.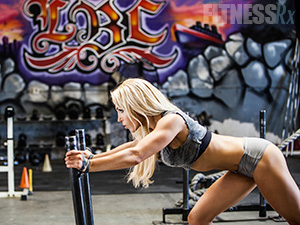 7 – Are you the kind of girl that will make the first move?
No! Ha ha! I kind of like to be wooed…not chased, though. And I don't like chasing and never have. But I'm pretty straight forward; when I met my man, I told him exactly what I wanted and what I didn't want the second that we met. And we're still together after eight years. I don't believe in games.
8 – On a first date, would you pick a rom-com, drama or action flick?
Romantic comedy, obviously.
9 – Do you view stares from men as a compliment or an annoyance?
It depends on the look they are giving and the situation. For instance, if it's an obvious 'I can't stop staring at you, damn it,' it's kind of cute. But if it's a cocky 'I wanna have you and I think I could' look – especially if I'm alone – then it's freaking insulting and I just want to punch you. It sort of goes in the 'hey, sexy babe' category.
10 – Hot or not" "Jersey Shore" guys?
Huge NOT HOT for me.
ANNA AT A GLANCE:
Anna Bielkheden moved to Los Angeles in 2007 with her husband and son. She bought a franchise in 2010 and opened the doors to Barry's Bootcamp Irvine in early 2011. Her love for fitness has led her to compete in bikini and she competed in NPC Excalibur 2011 and 2012, but her main passion is the camera and she loves working both behind and in front of it. She's been working as a MUA for many years and is now pursuing fitness modeling and acting. Anna recently signed with Mavricks Artists Agency for sports modeling, commercial and theatrical work.
https://twitter.com/AnnaBielkheden
http://www.facebook.com/annachristinebielkheden
Representation: Ted Maier, Mavricks Artists
Photos by James Patrick