Who wants to win a free NoiseHush Bluetooth headphones? That's right; it's contest time again and this one is a great addition to your daily workout. No longer will you have to fight with that annoying wire hanging from your headphones to your iPod, phone or MP3 player. Just pair your unit with these great, comfortable and stylish headphones and crank it up.
Here's what you get: NoiseHush Freedom BT700 Headphones (black), USB charging cable, user manual. That's a $79.99 value absolutely free! And we'll even throw in a free magazine so that you can read FitnessRX For Men while doing your cardio and listening to some cool tunes. (Other items in photos not included.)
This is all you need to do to enter (only submissions from the continental United States will be considered):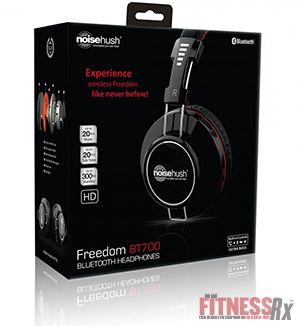 *Tell us your inspiration and what makes the music get you through your workout.
*Your 10 favorite songs to listen to while training.
That's it. No tricks or bull.
To enter, go to our forum and post your reply on the 'NoiseHush Bluetooth Headphones Contest' sticky thread in the FitnessRX – General Discussion section. We will be accepting entries until 12 noon EST on Friday, December 20, 2013. Only one entry per person.
The lucky winner will appear in our print magazine and on our website, as well as all of our social media pages.
Here are some details from the manufacturer:
Featuring cutting-edge 2.4G Bluetooth technology, impressive comfort, and intuitive controls, the Freedom BT700 provides superior sound quality in wireless communication and music listening. Its proprietary design, with full-spectrum circuitry, is optimized for superior sound and performance, resulting in powerful audio and strong bass. The built-in microphone provides hands-free calling and video chat capabilities.
The BT700 features inline controls that allow you to switch easily between managing your music and taking calls — so no more searching around for your phone!
http://noisehush.com
http://noisehush.com/headphones/Bluetooth-Headphones/noisehush-bt700
http://www.facebook.com/noisehush http://www.instagram.com/noisehush